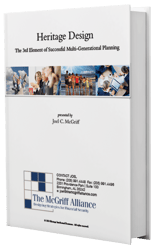 The Third Element of Successful Multi-Generational Planning
For centuries, the process by which most families have planned for their futures has consisted of two traditional planning elements: financial planning and estate planning. And for centuries, 9 out of 10 of those plans have ultimately failed the families they were supposed to protect.
The difference between the 90% of families who fail and the 10% who successfully keep their family unity and their assets together for multiple generations is not in the quality or thoroughness of the financial or estate planning that they do. Most professionals deliver good planning to their clients. The difference is that successful families do something in addition to financial and estate planning. They add a 3rd 'element 'to their planning. That element is known today as Heritage Design
Download this eBook today to learn how this 3rd element of planning can protect your family's financial future.