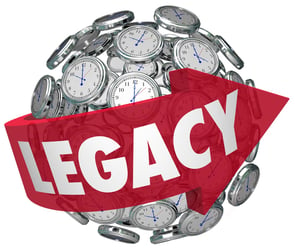 It has been said that only two things in life are inevitable: death and taxes. One you cannot do anything to avoid; the other you have at least a modicum of control over—as long as you plan wisely.
Death and taxes are two topics most Americans aren't comfortable discussing. However, they are both inevitable, and both can have serious implications for your loved ones.
According to Accenture, a global consulting firm that works with many of the largest financial companies in the world, nearly $30 trillion will be transferred from Baby Boomer parents to their heirs over the next 30 to 40 years. That's a lot of money, much of which will be watched closely by the IRS, which always wants its cut. And it's likely they'll get it, too, because many people simply won't discuss, much less develop a plan, for what happens to their assets after they have passed on.
It's an uncomfortable subject, one that requires parents to disclose their financial affairs to their children and others. It's a topic that has been known to cause schisms among siblings. Discussing it could lead to unrealistic expectations, fear, and even disappointment.
It's no wonder, then, that many people refuse to acknowledge the inevitable. It's also unfortunate, because talking about and planning your legacy is the best way to make it a reality through a will, a trust or trusts, and the assignment of an estate executor and an advance health care director.
But it does not have to be a difficult decision. Here's a look at how you can use a common sense financial technique known as prosperity economics to start the conversation and begin to plan your legacy:
Put yourself first
Planning your legacy should not require you to mortgage your present. Your health care, long-term care and overall well-being and enjoyment of life should be your first priority.
Many parents want to leave as much money for their children as possible. But, as billionaire investor Warren Buffett once famously said, "A very rich person should leave his kids enough to do anything, but not enough to do nothing."
And even if you are not "a very rich person," you should still heed this sage advice: A person should leave their kids anything they can, but not if it leaves them with nothing while they are alive.
In fact, the greatest gift you can provide for your children is your ability to live a healthy, happy and independent life for as long as possible. Here's how:
Leverage investment opportunities beyond the stock market
Diversify your assets
Create cash flow through investments prior to retiring
Build equity by owning one or more properties
Leverage the power of permanent life insurance, which has a cash value that can be borrowed against at any time, if needed
Prosperity economics is all about making smart decisions, and that starts with putting yourself first.
Communicate, communicate, communicate
It's your legacy, so you may as well be clear about what you want it to look like. That means you are probably going to engage in serious and sometimes uncomfortable conversations with your family.
These conversations are critically important for you as well as for your family. It will give you an opportunity to make your wishes known, provide information about your estate, and give your family members direction about where they can find information about your will, trust or trusts, and wishes.
Communicating with your family might not be easy. In fact, it might be downright awkward. But communication is essential to ensuring that your wishes are carried out—and your family understands why.
Use the conversation as an opportunity to both provide information and explain your thought processes. Stay positive. Stay focused. And no matter how well-intentioned, do not make promises you cannot keep.
Strive for fairness
When it comes to estate planning, fairness should always be your goal. You should strive to be fair to your children as well as to yourself. After all, the decisions you make will affect your relationships with your children today as well as their relationships with one another in the future.
Fairness is only achievable if you are cognizant of the current and past relationships you've had with your children.
For example, while it is very likely that one of your children is best suited to serve as executor, it might be prudent to allow each of your children to play a role—even if it is a small role—in settling your estate. That way, everyone feels as if they are valued, have a certain modicum of control over the situation, and will not be taken advantage of.
It is also important to consider what, if any, support you have provided for your children throughout the years. It is very possible that you have financially supported some children more than others. If this is the case, you will need to determine whether it is fair that the children who received more financial support should receive less inheritance in your estate plans.
Expand your legacy
As previously stated, few things in life are guaranteed, so it's wise to start planning your estate as early as possible.
In fact, prosperity economics not only encourages you to start planning early, but also encourages you to include your children in the process as soon as possible.
Prosperity economics is built on the principle of financial responsibility. Moreso than any amount of money or property, inspiring in your children the knowledge, skills, and confidence it takes to live a financially secure life is perhaps the greatest gift you can leave for them.
After all, your legacy should not be solely about money.
So don't wait until the end to begin your estate planning, and don't wait to the end to teach your children about the power of prosperity economics. Give them the practical wisdom it takes to live a financially secure life by:
Giving them a role in planning family vacations, large purchases, and other major decisions that affect your family's finances
Discussing the family budget in detail with them on a regular basis
Sharing your knowledge about the importance of saving, investing, creating cash flow, purchasing properties, and growing a business
Teaching them how banks work by using one or more whole life policies as a "family bank," which can allow them to save for their own cars, pay for college, or start their own business
If you start practicing prosperity economics as early as possible, sharing your knowledge and skills with your children, you will be creating a legacy that starts earlier and lasts longer than any amount of money or property you can leave for them.
Do not delay
It has been said that time heals all wounds. But in the case of estate planning, delaying your decisions often leads to confusion, frustration, and hurt feelings that could have been avoided.
So do not delay. Even if you feel that you are too young to start estate planning or that your assets are too modest, you should start your estate planning as soon as possible.
In reality, you will be doing far more than simply planning your estate; you will be planning your legacy. You will also be:
Teaching the people who matter most to you how to begin building their own legacies by teaching them the principles of prosperity economics at an early age
Enjoying the peace of mind that comes with knowing you have done all you can to give your children a better future
Ensuring that your health care needs, long-term security, and lifestyle will not be jeopardized and will be secure
Thinking carefully about how you want your estate to be handled and know with precision that your decisions have been made for the right reasons
Have time to include charities in your decision-making process, which is something that is often overlooked
Only two things in life are inevitable, and it is never too early to start thinking about how both will affect your family. Contact your prosperity economics adviser today to start planning for your future as well as your legacy.