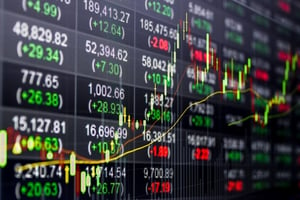 "Ladies and gentlemen, your financial adviser has turned on the fasten seat belt sign, as you are soon to be crossing a zone of stock-market turbulence. Please return to your seats ... and prepare for the inevitable crash."
If the stock market has taught investors anything, it's that they are in for a bumpy ride – and crashes are bound to happen.
The largest single-day point decline for the Dow occurred on Sept. 29, 2008, when the index dropped nearly 780 points. Then on October 15 of the same year, it lost another 733 points, leading to the Great Recession.
Before that, there was Black Monday, Black Friday, the Dot Com Bubble and the Wall Street Crash of 1929. Of course the list goes on and on. Markets have been taking investors on turbulent rides for centuries.
It's a safe bet that another crash is on the horizon.
So what are you going to do about it? If you're like most Americans, your investment portfolio contains mostly stocks, either through your 401(k), individual stocks, mutual funds or an IRA.
But with the the stock market clouds of uncertainty looming, is that really a good idea?
Probably not.
So if not the stock market, where? The simple answer is to truly diversify your portfolio by exploring and investing in non-correlated opportunities (alternative investments that are not influenced by the performance of the stock market).
Here's a look at some alternative investments that can help crash proof your portfolio:
Look to life settlements
If you're looking for significant asset growth with minimal risk, you're going to want to consider life settlements.
Like real estate deeds of trust, life insurance policies and the assets they represent can be purchased and sold on the secondary market. This means you can purchase unwanted, unneeded and unaffordable policies from older Americans – and everyone wins.
The sellers get a large cash payment, which is typically greater than the amount of the cash value of their policy; you get a guaranteed payout once the policy comes due.
Life settlements are alternative investments that are unaffected by the stock market performance, deliver healthy returns (typically in the double digits) and have almost no risk, other than time.
Create Cash Flow with Commercial Bridge Loans
There are small businesses across the country in need of cash – and this creates an awesome opportunity for you to create cash flow for yourself.
Commercial bridge loans can deliver fast, reliable and significant income. They essentially let you leverage real estate and property without having to manage property.
You provide temporary financing at higher-than-typical interest rates in return for monthly loan payments – and companies get the cash to continue operations.
Bridge loans are reliable, secure, flexible and provide returns of between 7 and 14 percent.
Get Real Strategic About Real Estate
You don't have to be a real estate mogul to crash-proof your portfolio. All you need to do is get really strategic:
Start somewhere, even if it's small. Buying a new home? Consider renting out your old one.
Get accredited, which allows you to take advantage of alternative investments others don't have access to, including life settlements and commercial real estate by becoming a private lender.
Cut out the middleman. Peer lending (which is also known as P2P) cuts out banks and credit card companies, allowing you to lend money to people online using websites such as LendingClub.com and Prosper.com.
Crash-Proof Your Portfolio today
Don't fall victim to another stock market crash. Instead, connect with us today so we can help you crash-proof your portfolio by exploring and leveraging alternative investments.
They'll help you successfully navigate the market's turbulence.