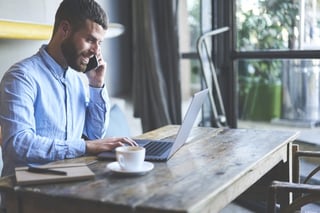 Very few people actually like dealing with banks –and with good reason.
Asking someone for money almost always involves uncomfortable conversations, entirely too many forms to fill out and the knowledge that your financial future rests squarely in the hands of someone else.
And then who could forget what the miserly old banker Ebenezer Sprague did to the good people of Walnut Grove on the "Little House on the Prairie" television program, forcing the townspeople to quickly build him a bank, then leaving town as soon as the economy tanked?
It's no wonder bankers consistently rank among the least trusted professionals in the country, according to information released by Edelman.
If only there were a way to be your own banker; you wouldn't have to fill out the endless financial forms or rely on faceless and fickle financiers to secure a brighter financial future.
There is: infinite banking.
Infinite banking is an ingenious way to achieve financial independence by using whole life insurance as a savings accumulation vehicle.
In short, you use after-tax money to overfund a specially designed high-cash value whole life insurance policy. Over the course of several years – ranging from a decade to two decades--your policy builds a tax-free cash value that you can then borrow against to finance investments, major purchases, your retirement or anything else you need.
And here's the best part: you don't have to deal with a bank.
But even though infinite banking delivers an array of benefits (guarantees that your whole life insurance policy won't ever decrease in value, dividends, etc.), it might not be right for everyone.
Some people are simply better served using savings accounts, 401(k) accounts and stock market investments to secure their financial futures.
Which are you?
Is infinite banking right for you?
Whether or not infinite banking is right for you depends on many variables, including your ability to be a disciplined investor, your needs for a death benefit during retirement and your desires to avoid certain types of taxes.
Here are three types of people who can clearly benefit from all that infinite banking has to offer:
Disciplined investors
Are you the type of person who has the discipline to "invest the difference"? If so, infinite banking will probably make a lot of sense for you.
Investing the difference is all about making sure every dollar your policy earns through interest and dividends is being invested in a manner that makes it multiply.
Because the policy continues to earn interest on its total value even after you take out a loan against its cash value, you can really make your money work harder for you.
But you have to be disciplined enough to invest the difference.
People who need a death benefit in retirement
Most people probably view a death benefit as something that is nice to have, rather than a necessity.
However, some retirees have people who depend on them financially, and that's when the death benefit becomes a necessity.
For these folks, working the infinite banking concept does a two things. It provides a little external encouragement (in the form of a monthly premium payment into the life insurance policy) that guarantees they'll be saving money. It provides peace of mind, because the guaranteed death benefit ensures that their loved ones will have the financial resources they need in the future.
People looking to create cash flow
Imagine if you were both your own banker and the banker to family and friends. Infinite banking allows you to do that. You can make personal loans to people you trust at lower interest rates than what banks charge.