Prosperity Economics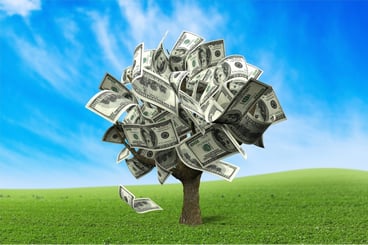 Even with all the financial advice available today, most people have not been led to economic success. With the rising costs of health care and college educations, Americans are struggling to pay down debt and save for their own needs and wants.
Are you pouring everything into a 401k and hoping it will be enough? What if you're relatively wealthy but can't figure out how to make your assets grow while protecting them from taxes and market fluctuations?
Prosperity Economics doesn't want to help people succeed with strategies that are flawed. It questions the financial assumptions we accept as truth and provides alternatives to traditional financial planning.
Prosperity Economics – What is it?
The concepts of Prosperity Economics are not just now being discovered – they are being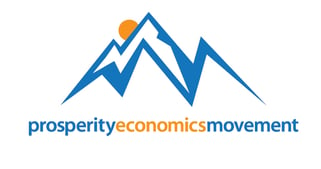 rediscovered. Prosperity Economics uses principles and strategies that were in use prior to 401k's and the current financial planning industry. It is a way to maximize our wealth by maintaining control instead of placing our futures in the hands of Wall Street, corporations and the government.
Prosperity Economics uses traditional tools such as business ownership, real estate investing, and saving, borrowing and transferring wealth with dividend-paying whole life insurance. No need to gamble on Wall Street or put your savings into a retirement plan subject to government taxes.
Below is a chart which shows the contrast between traditional financial planning and Prosperity Economics.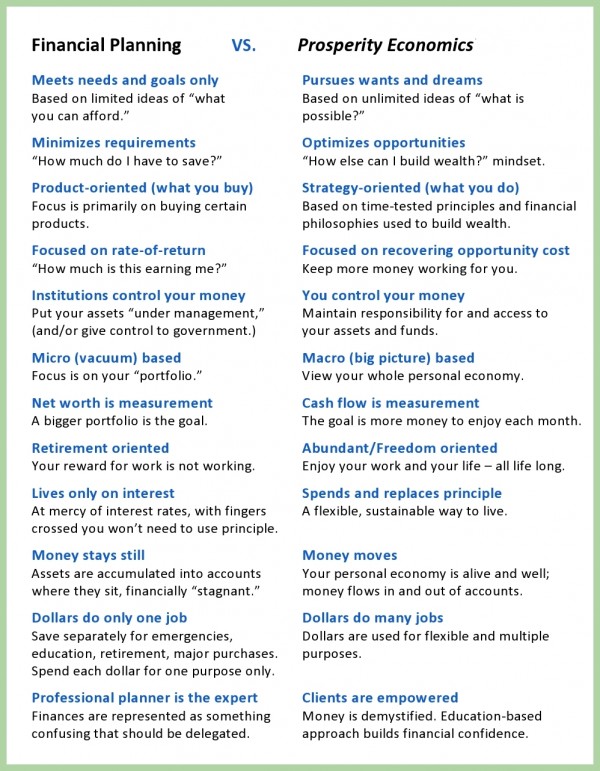 These are the questions you should be asking. Should you:
Pay management fees whether or not your funds are earning?
Analyze your risk tolerance? (Are you comfortable losing money while exposing your assets to losses?)
Cross your fingers and hope that maxing out your 401k will be enough to live on?
Avoid taxes now only to pay them later?
Lock up your assets in funds that punish you for using them, and keep you from borrowing against them?
There's a better way.
We don't believe that traditional financial planning works very well. Most commonly-accepted advice doesn't give the whole truth, nor does it necessarily protect your money. Typical planning is better than nothing and will get you part of the way there, but Prosperity Economics can help you make it to the finish line of prosperity.