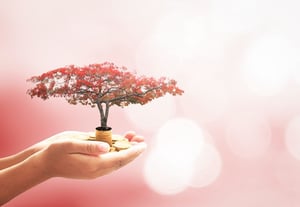 SPOILER ALERT: The answer to the question posed in the headline is "yes".
Elon Musk knows a thing or two about change.
He's the person responsible for Neuralink, SolarCity, Tesla Inc., SpaceX and OpenAI. He designs and launches reusable rockets; manufactures electric cars that boast torque, incredible power and zero emissions; and has his eyes set on establishing a human colony on Mars.
Yes, it's safe to say that Elon Musk is a champion of change, innovation and forward-thinking-chance taking.
He also embraces alternative investments.
Musk is the type of person who seems to have a long memory. He has looked at the stock market, studied its history and decided that he's OK putting his money in alternative investments – because he knows that not doing so is disaster.
Most investors don't have Musk's patience or long-term memory. They see the stock market in a downward, wealth-destroying spiral and assume that it's overdue for a correction.
But what if there were better alternatives?
There are. You can invest your money outside of the stock market--safely and profitably--without starting a world-changing business, building better automobiles or attempting to put a person on Mars.
Here's how:
Face your fears
Change can be incredibly scary – especially when it involves your financial future. But if you are truly going to open up your mind to new possibilities (such as colonizing Mars), you're going to have to face your fears and get over your misconceptions about alternative investments:
Open your mind. Be willing to at least listen to ideas about alternative investment strategies.
Re-equate risk and reward. Too many people mistakenly believe that you have to risk your money in order to get a big reward.
Expand your knowledge. You don't know what you don't know. So maybe its time to start investigating alternative investments.
Stop worrying about what others will say. This one is self-explanatory.
If you are tired of dancing with disaster, it's time for a paradigm shift. It's time to face your fears and open your mind to the lower-risk opportunities that await when you make the change to alternative investments.
But which alternative investment opportunities are right for you? Keep reading to find out.
Beyond stocks, bonds and mutual funds
If you are like most people, you equate investment opportunities with stocks, bonds and mutual funds. And if you're thinking about alternative investments, you may let your mind wander to real estate.
But what if you allow yourself to think about what's beyond stocks, bonds and mutual funds?
What if you looked into non-correlated alternative investments?
Non-correlated assets don't rise and fall with the stock market. Instead, they provide you with less risk, guaranteed rewards and the ability to truly control your financial future.
Here's a look at three alternative investments that can be considered non-correlated and alternative:
Life settlements. They provide exceptional growth with minimal risk. In short, life settlements allow you to buy unused, unaffordable or unwanted life insurance policies that deliver guaranteed value.
Life settlements are attractive alternative investments because they deliver:
Non-correlated returns
Almost no downside risk
Healthy returns
High safety
Commercial bridge loans. These little beauties can be an exceptional choice for investors looking for immediate, steady and sustainable cash flow.
Bridge loans provide short-term financing (typically for a year) to businesses--but at higher interest rates than traditional loans.
High cash value life insurance. While life insurance might not be an "investment," it is a great place to store your money and protect it for your family. Life insurance is great for long-term saving and building multi-generational wealth.
Should you consider alternative investments? The answer is a resounding yes.