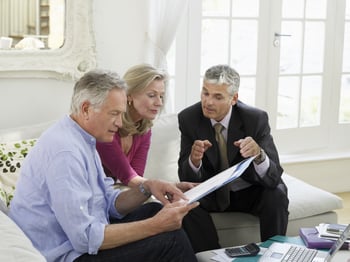 Ask Google and you'll get more than 2.7 million results in less than a second. Consult your neighbor and you're likely to be told to go with the DIY method. Talk to a financial planner and you'll probably get sold on his or her services, which are likely to focus on stocks and bonds.
Yes, Americans have long struggled with figuring out how to best choose a financial planner.
The reason the question is so vexing is that there isn't one philosophy, service or strategy that works for everyone. So much of it depends on your current financial situation and future goals that it really comes down to what you value.
If you're like most Americans, you value security, flexibility and the opportunity to control your own destiny, which is to say you are likely among the growing group of people interested in alternative investments.
Unfortunately, finding a financial planner that understands alternative investments isn't always easy.
But it also doesn't have to be hard if you follow this advice:
Learn the ABCs of Investing
Are you looking for a CFP, CFA, CPA or a ChFC?
If you don't know what these acronyms mean, it's time to get up to speed with the ABCs of investing.
Choosing the right financial planner comes down to understanding the differences between a certified financial planner (CFP), someone with a chartered financial analyst (CFA) designation, a certified public accountant (CPA) and a chartered financial consultant (ChFC).
Understanding the role each plays in the financial planning world can make your choice a lot easier.
Consider the Costs
Generally speaking, financial planners and advisers get paid in one of two ways–fees or commissions.
While commissions are very common, they can also create more conflicts of interest. Fee-only advisers have fewer conflicts because they charge a standard fee for assisting you in setting up your financial plan or providing periodic advice. Some fee-only advisers also charge a low percentage of your assets (typically between 1 and 2 percent) to manage your money, but it's still often less than what a commission would be.
Ask the Tough Questions
The person you hire as your financial planner will play an important role in your future, so make sure to interview several and ask the tough questions.
Find out about their experience, expertise, successes, failures and understanding of alternative investments such as infinite banking or life settlements (which is a growing, lower risk/higher return opportunity for investors).
Then ask for references and ask them more tough questions. Find out if the financial planners you are considering are responsive, smart and actually understand alternative investment strategies and how to truly diversify a portfolio.
Financial planners should be willing to invest time into answering your questions because you'll be allowing them to invest your money.
Do Your Due Diligence
The last thing you want to do is wind up working with another Bernie Madoff. So make sure you do your due diligence.
Look at each adviser's Form ADV, which will tell you whether or not there are any skeletons in their closets. If you are considering working with a broker, visit BrokerCheck to learn more about her or him. And finally, consider connecting with the securities regulator in your state to find out what professional organizations your prospective adviser is involved with.
Doing your due diligence can protect you and provide peace of mind.
Trust Your Gut
Always trust your gut. If it just doesn't feel right–no matter how wonderfully great the sales pitch is–trust your gut. If they don't share your values and understand alternative investments, you are probably going to want to walk away.