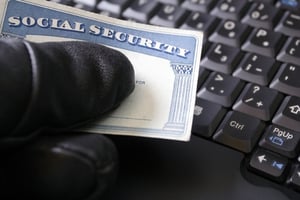 143 million.
That's how many Americans were affected by the Equifax security breach.
On Monday, Sept. 7, the consumer credit reporting company announced that a bunch of yet-to-be-identified criminals had accessed and stolen the names, Social Security numbers, birth dates, addresses and driver's license numbers of tens of millions of Americans.
But wait, there's more: 209,000 Americans also had their credit card numbers accessed and 182,000 had documents containing identifying information accessed.
This breach – the latest in a long line of data breaches dating back several years – is bad news for anyone who has ever set up an account with Equifax, applied for a loan or had their credit checked, which would put their personal information in the (apparently entirely unsecured) Equifax database.
In other words, the breach is bad news for about half of the country's adult population.
So there's a 50/50 chance your data has been compromised. What should you do to protect yourself, your family and your investments?
Here's a look at what you need to know:
Were you affected?
Half the country's adult population has been affected by the Equifax data breach. The first thing you need to do to protect your financial future is find out if you're included.
You can check on the Equifax website.
Your Credit Report is Critically Important
Due to the sheer enormity of the data breach, Equifax seems to be having some trouble determining exactly who was (and wasn't) affected. It's likely that you'll get a vague message along the lines of "you may have been affected" when you check to see if your data was accessed.
This makes keeping an eye on your credit report critically important.
Check it now at AnnualCreditReport.com so you can establish a baseline. Then, keep checking it for inaccuracies. If one of the data thieves uses your name to secure credit, it will show up on your credit report.
Equifax Has Made an Offer You Can't Refuse
The data breach raised myriad questions about the ethics of the Equifax leadership team, but you can't really argue with the company's efforts to make it right.
The company has offered anyone potentially affected by the data breach TrustedID Premier free of charge for one year.
The service includes:
A free Equifax credit report
Free monitoring from all three credit bureaus
A free Equifax credit report lock
Free social security number monitoring
A $1 million identity theft insurance policy.
The service is entirely free for one year, so you can't really afford not to take advantage of it. Learn more here.
The Risks Are to Your Identity and Investments
Because Equifax was unable to protect your personal information, thieves now have a toolkit that could allow them to build a virtual version of you.
They can potentially combine the information they stole from Equifax with passwords stolen from other companies (looking at you, Yahoo), and use it to log in to your financial accounts.
And even though the Securities and Exchange Commission requires financial companies to identify, detect and respond to identity theft red flags, they are not necessarily required to restore assets stolen by hackers.
Protection: The Best Investment
The SEC doesn't require mutual fund companies to make you whole again if your money are stolen by hackers.
For this reason, you need to call your financial advisers – specifically your 401(k) adviser – and talk about their fraud protection policies.
You can also take advantage of the services offered by Equifax, invest in identity theft protection and secure a fraud alert system for your credit report. Right now, protecting yourself from fraud is the best investment you can make.