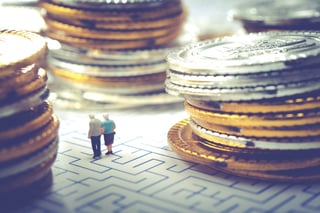 It all changed on a cold December day at Chicago's O'Hare International Airport.
That's where 13 people gathered around a table and began to discuss financial planning for the masses for the very first time. A year later, the International Association for Financial Counseling was formed and the future of American families took a turn for the better.
Since then, the financial planning industry has evolved from one where advisors were paid per transaction to one focused on retirement.
Today, the industry has taken another step forward by focusing on heritage planning.
Heritage planning goes beyond retirement, wills and trusts to help you put in place a plan that will protect both the wealth you have worked so hard to obtain and your legacy. It is designed to teach your children and grandchildren to manage money, live your family values and hold on to the financial assets you'll pass on to them, which studies have shown is easier said than done.
It's a planning process that requires tough questions, difficult conversations and decisions about what really matters to your family's future.
And it requires the right heritage planning professional.
Here's a look at what you need to consider when choosing the advisor to help protect your family's legacy:
Putting the family first
There are nearly 300,000 financial advisors in the United States, according to research conducted by Cerulli Associates. Some focus on estate planning, some on investments and some do a little of both.
You want one who focuses on your family.
Heritage planning is about putting your family first, which is what will allow you to achieve your most important objectives today, tomorrow and for generations to come.
Your advisor should demonstrate knowledge and skill in both wealth and family management techniques and tools.
Process and partnerships
Heritage planning differentiates itself from traditional financial planning by using a three-step approach to helping you design your legacy.
It involves financial planning, which keeps your assets safe throughout your lifetime; estate planning, which prepares your assets to be passed along to your family; and heritage design, which helps your family prepare to receive their inheritance of both financial assets and family values.
Your financial advisor should pay equal attention to all three elements of heritage planning--and incorporate heritage design into all three steps.
When it is time for you to match your financial goals with your legacy goals, your advisor should be willing to partner with your other advisors--personal and professional--to craft a vision that allows you to achieve your goals.
Commitment to communication
Because heritage planning is such a personal and often emotional process, it is imperative that your financial advisor is an exceptional communicator.
You will need to be challenged and pushed to determine what truly matters most to you. A family governance structure will need to be developed. Difficult decisions will need to be made, and you will need an advisor with the communication skills necessary to guide you and your loved ones through the entire process.
Only through open and honest communication can you achieve your dreams across generations.
Start planning your legacy today
The principles of heritage planning do not only apply to those who have copious amounts of wealth or experience. In fact, the principles have nothing to do with money.
It's a strategy that can be implemented regardless of your age or financial situation and can be applied to people of all income and asset levels. Planning for the future of your money is different from planning for the future of your family, your heritage and your legacy.
Start planning your legacy today.