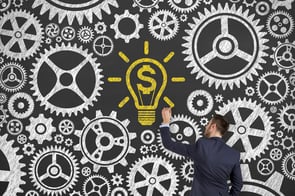 What if Disney World didn't exist?
Imagine the myriad of memories, smiles and fairytale weddings that never would have taken place. No Mad Tea Party rides, no Space Mountain and no Magic Kingdom. Millions of kids would never have experienced their own personal Disney Magical Moment.
Thankfully, Walt Disney had life insurance.
That's right. The visionary who brought life to all things Disney used life insurance to bring his dreams to life. Because before there was a Mickey Mouse and Donald Duck and Bambi, Disney had filed for bankruptcy and couldn't find funding for his fun park.
What he did not only brought joy to countless Americans, but also created a blueprint for other entrepreneurs who didn't want to (or couldn't) rely on traditional means of financing.
Since then, countless other entrepreneurs have picked up on Disney's surprising business financing model and used it to launch their own successful enterprises.
Here's a look at how and why they had to do it.
Tapping into the lifeblood of successful businesses
It has been said that cash is king. In reality, it's much more important than that. It's the lifeblood of business.
Without capital, companies can't even get off the ground, much less grow. This means entrepreneurs need access to cash in order to build their businesses.
Sure, you can save your own money in mutual funds, retirement accounts, qualified funds and home equity lines of credit, but all of those options come with costs:
Taxes and penalties when you access the money (your money)
Strict rules that dictate when you can and can't use your money, depending on your age
Limits to the amount you can save each year
Ever-changing rules and regulations that govern access to your money
Restrictions on how you can use your money
Requirements that force you to sell your underlying investments and forfeit future gains
Rules that can make your money inaccessible when your income, credit rating or home value changes
These costs aren't small considerations for entrepreneurs. They can add up quickly and keep you in financial limbo—especially when you're faced with emergencies or opportunities related to your business.
They are also reasons smart entrepreneurs like Walt Disney have decided to eschew traditional sources of capital in favor of life insurance.
The value of being your own bank
If you're serious about using your own money to invest in your entrepreneurial ideas, you need to know and trust the secret that other successful entrepreneurs hold near and dear: Whole life insurance allows you to be your own bank.
Walt Disney knew this secret, and he leveraged it to build a company worth more than $150 billion dollars.
He's not alone, either.
There are thousands of entrepreneurs across the country who leverage the power of whole life insurance to build solid financial foundations for themselves. They know that it's their money and they should have the right to use it to build businesses, wealth and financial security for themselves as well as their families.
Walt Disney's investment in himself
The year was 1953, and Walt Disney had a vision. He wanted to build the most magical of theme parks. But there was a problem. He'd suffered several earlier failures and had actually filed for bankruptcy. Traditional funding sources simply weren't viable options.
So he collateralized his life insurance policy, pumped $200,000 of his own money into the business venture and the rest is history.
Disney invested in himself and once said that he had "everything mortgaged," including his personal life insurance. It turned out pretty well for Walt Disney. By 1955 the doors of Disneyland were opened, and more than 3.5 million people poured through them during the first year of operation.
The $1,000 "loan" that hatched a family business
Most people have probably never heard of Max and Verda Foster, but they've more than likely eaten their eggs.
In 1939, the Fosters borrowed $1,000 against their life insurance policy to invest in a chicken farm. The first batch of eggs were sold by Verda at local markets. Today, Foster Farms is still a family-owned business, but it employs thousands of people and is recognized across the country for its fresh, certified-humane chickens raised without antibiotics.
By the way, the Fosters are listed in the top 200 on the Forbes list of America's Richest Families.
Surviving the Great Depression
J.C. Penney is an American institution, but if it weren't for life insurance, it might not have survived the Great Depression.
Along with some other investors, James Cash Penney first opened "The Golden Rule" in 1902. A short time later, he bought out his partners and renamed the store after himself. J.C. Penney quickly grew into a retail powerhouse, boasting 1,400 stores across the country.
And then the stock market crashed, eliminating almost all of Mr. Penney's personal wealth and profits.
Instead of killing the company, Penney borrowed against his life insurance policy, met payroll, paid his operating expenses and saved the company.
Bringing the Big Mac to the masses
Very few people know this, but if it weren't for life insurance, the world may never have been introduced to the Big Mac.
That's because Ray Kroc, the milkshake salesman turned franchisee, probably wouldn't have been able to open all of his McDonald's hamburger shops if not for the ability to borrow against his policy.
After Kroc struck a deal to franchise the McDonald brothers' operation, he wasn't able to take a salary for about eight years. He borrowed money from two cash value life insurance policies to help him meet the constant cash flow demands and expand his operation.
Today, there are more than 36,000 McDonald's operating in 118 countries.
Warren Buffett's home-based business
Okay, maybe Warren Buffett doesn't actually operate Pampered Chef out of his home. But he did buy the Pampered Chef, which was started as a home-based business by a Chicago woman who borrowed $3,000 from her life insurance policy to get the company off the ground.
Buffett bought Pampered Chef in 2002 from Doris Christopher, who made a lot of money and still serves as the company's chairman.
Saving Stanford
Leland Stanford, Jr. University was started in 1891, but it almost closed its doors after two years.
That's when the university's namesake died, leaving his family with a tangled web of financial affairs, legal issues and too many bills to keep the lights on.
Luckily, Stanford's wife found a life insurance policy worth $10,000 (a quarter-million dollars in today's dollars) and used the money to pay the university's bills and allow it to become one of the country's finest educational institutions.
If not for a life insurance policy, Stanford may not have lasted.
Why rely on whole life insurance?
To be sure, there are many lessons that can be learned from the likes of Disney, Buffett, Kroc, Penney and the Fosters. But perhaps the most important lesson of them all is that smart entrepreneurs rely on whole life insurance.
Here's why:
You control the cash flow. Capital is the lifeblood of business, and whole life insurance puts you in control of the cash flow.
You can prepare for uncertainty. You never know when opportunities or emergencies will present themselves. Whole life insurance allows you to keep your cash liquid and stable.
You are your own bank. Being able to use your own money to buy big ticket items can save you a lot of money on interest, taxes and fees.
You can lease assets for your business. Using your whole life insurance policies to lease assets lets you avoid certain taxes. Of course, you should consult your tax adviser before you take advantage of this opportunity.
You are in control. The Great Recession showed many investors and entrepreneurs who the boss was—and it wasn't them. When you have access to capital, you are less reliant on traditional sources of financing.
You can protect yourself, your family and your partners. Like Mr. Penney and the Stanfords, you can tap into your whole life insurance policy to take care of and protect the important people in your life.
You can leave a legacy. Sure, leaving your family a large sum of money after you pass on leaves a legacy. But leaving them with a successful business, an endowment in your family's name and the knowledge that you will be forever remembered allows you to ensure that your accomplishments will never be forgotten.
It's difficult to imagine a world without Disney, but it can be even more difficult to imagine a world where your dreams are never fully realized.
Now that you know the secret about whole life insurance, you don't have to worry about that ever happening.
Sent from the Land of Possibilities!